Treat yourself to any of Bare Beauty's premium facials, peels and/or microdermabrasion to restore firmness, texture, softness, and tone to your complexion. Address the inevitable signs of aging such as wrinkles, sagging skin, and sun damage on your face, neck and décolleté. There is a unique facial treatment for every skin condition!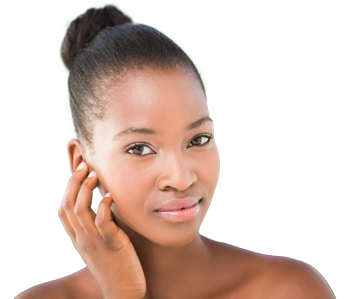 Experience this advanced hydrating treatment with a cocktail of pharmaceutical-grade ingredients – plus a customized enhancing booster – that immediately tightens, lightens, and brightens your skin. It features double cleansing, four layers of enzyme peel, and masks with extractions. Face and décolleté massage, hand/arm massage, and lip and eye treatments with moisturizer and SPF are included.
Win the war on acne with the Bare Beauty acne facial, which eliminates excess oil and clears congestion using sulfur, tea tree, fulvic acid and AHAs.
"Zits Be Gone"
Purifying Facial
Combat all types of acne with powerful anti-bacterial peptides, salicylic acid, and soothing anti-inflammatory botanicals. This facial includes a Post Kit to speed up recovery time at home.
This treatment sculpts, tightens and improves skin tone with plant-derived stem cell and peptide power. Exclusive encapsulated and preserved ingredients remain pure and sterile until they touch your skin.
Firming Neck &
Décolleté Treatment
Aging doesn't stop with your face, so why should your treatments? This neck and body treatment targets hyperpigmentation, wrinkles and lax skin on the neck and décolleté.
Ultimate Anti-Aging & Hydrating Stem Cell Facial
Experience the latest in stem cell technology with this unique facial that uses aloe vera-based, medical grade Image MAX stem cell products. It is highly effective for aging or dehydrated skin types.
Bare Beauty and Medical Spa's organic facials use the most pristine ingredients to give your skin the ultimate, longest lasting results. Choose from a variety of facials that can cleanse, tighten and firm, reduce wrinkles and sun damage, calm rosacea, detoxify, hydrate, and more.
Polish away impurities and restore the natural radiance to your skin. This luxurious flash facial is infused with powerful super antioxidants and key organic ingredients.
Lighten and brighten your skin with this synthetic-free, antioxidant-packed treatment, which is gentle and balances your skin. Age later the natural way!
Elevating clinical skincare to a new level of luxury, this facial will brighten, hydrate and nourish your skin. It includes additional relaxing massage techniques that will transport you to a state of bliss.
All Organic Facials are synthetic free and good for all skin types. Age later the natural way!
Treat moderate to severe acne with this powerful non-blended salicylic acid peel that includes a Post Kit to speed up recovery time.
This peel utilizes gentle chemical combinations applied to the skin to minimize acne and acne scarring of the face, neck and chest.
*For faster, maximized results, enhance any skin treatment with Celluma Rejuvenating LED light therapy,
which improves cellular health to reduce signs of aging, relieve pain and eliminate acne.
Bare Beauty's microdermabrasion treatment is a safe and effective procedure for the face and neck. It uses a crystal-tipped instrument to exfoliate and restore smoothness to your face, minimize fine lines and wrinkles, erase sun-damage, and more. Combine a chemical peel with microdermabrasion for optimal results. You will also receive a Post Kit for speedy recovery time.
BARE has combined medical results with the relaxing touch of resort-type facials for our microdermabrasion treatment. This treatment is safe and effective for the face and neck.
Fine lines and wrinkles
Sun-damage skin
Acne/Acne Scars
Excess oils
Blackheads/Whiteheads
Stretch Marks
Pore Size
Superficial age spots
BT-Titan Microexfoliation
Microexfoliation with nano tips is an exceptionally effective advanced new skin treatment that leaves skin smooth, bright, and glowing with improved overall texture. BT-Titan MN model AE skin treatments offer a highly controlled and precise service that is adapted to your exact skin needs. Unlike more invasive procedures, this quick application not only delivers marked results but is suitable for most skin types and tones. With no down time, a BY-Titan Microexfoliation skin treatment is a great option for those with a busy lifestyle and schedule.